So many clothes, nothing to wear! It happens to the best of us. In fact, it's estimated we spend 287 full days in a lifetime deciding what to wear. What if we told you there is a smarter and more sustainable approach to your wardrobe? Get more out of your clothes: save time, money, and space with these three creative strategies that will transform how you get dressed.
The wardrobe struggle
It's a familiar scenario, staring at a closet bursting with clothes and finding zero to wear. Whether that's because you own a mix of incohesive items, low-quality materials have left your clothes looking lackluster, or you're tired of wearing the same things on repeat. Struggling to find something to wear every morning is a waste of your valuable time and a frustrating start to the day.
So how do you affordably revamp your closet to be fresh and functional? Forget cluttering your closet with more clothes. Use these 3 creative strategies and never look back!
---
1. Build a capsule wardrobe with soul
Capsule wardrobes are having a moment and we're all for it.
A capsule wardrobe is a thoughtfully curated collection of pieces that are easily mixed and matched to create a variety of different outfits. Create more looks with fewer clothes – what's not to love? It's a sustainable and practical fashion solution that's hard to beat.
Built from timeless pieces in neutral tones, a capsule wardrobe is designed to outlive seasonal trends. Think classic cuts, minimalist designs, and durable fabrics. In theory, a capsule collection should mean you can get dressed in the dark and end up with a cohesive look.
But don't worry, building a capsule collection doesn't have to mean sacrificing personality for soulless style. Nor does it mean you have to miss out on experimenting with new trends. Keep your looks fresh and personalized by incorporating unique rental pieces. Spice up neutral basics with a statement jacket, a bold shirt, or unique handbag. Renting items to elevate your style will breathe life into your wardrobe while honoring the sustainability and practicality aspects of a capsule closet.
2. Say no to one-time purchases
It should go without saying, but one-time purchases hurt your wallet, the planet, and your attempts at a minimalist wardrobe.
Rather than buying a new piece of clothing every time you've got a new event coming up, try renting an outfit instead. Whether that's renting for wedding season, summer holidays, or a special occasion, fashion rental will save you money and help you avoid overcrowding your closet with never-to-be-worn-again items.
We also know one-time purchases are detrimental to the planet. Currently, the fashion industry is responsible for between 2% and 8% of global greenhouse gas emissions, as well as significant pollution, water extraction, and biodiversity impacts. And while much of this responsibility should fall on manufacturers and regulators, consumers can also help reduce their impact. By swapping one-time purchases for conscious consumerism and rental practices, you can help maximize garment use and reduce your personal fashion waste.
Besides that, renting is a fun way to experiment with new looks without the commitment of ownership. Step out of your comfort zone without feeling the guilt that you might not wear it again. When renting, you'll know every piece is getting the love and use it deserves.
And what if you fall head over heels in love with a rented piece? At Dressr we understand some garments will steal your heart. So if you really love your rented item you can purchase it at a reduced price*.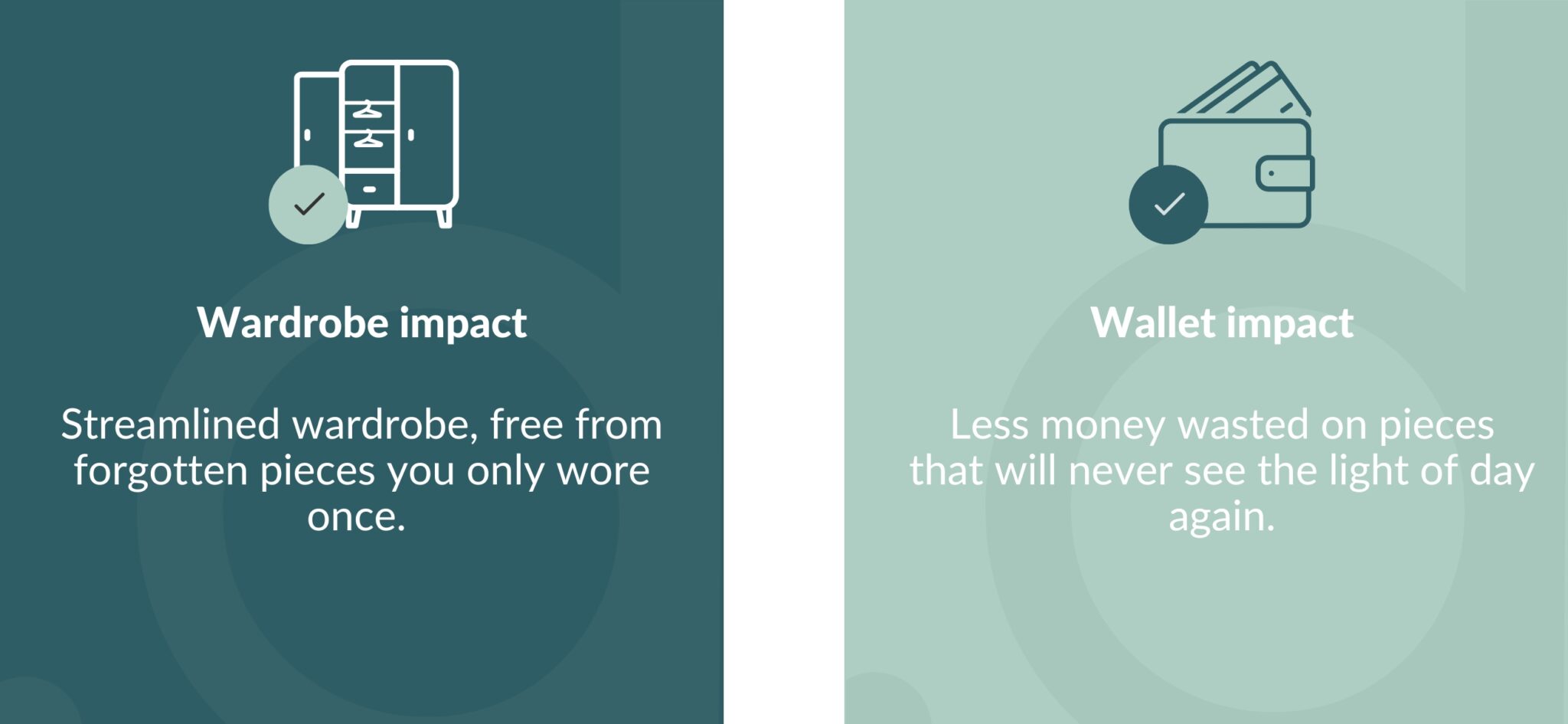 3. Ditch the 'seasonal shop' for a 'seasonal swap'
We're all familiar with the seasonal shop; a fashion haul at the turn of the season to get you through until the next rolls around. But there's an easier, more wardrobe-friendly, and sustainable way to make sure you're prepared for the shift in the seasons. Instead of shopping, try swapping your seasonal wardrobes with fashion rental.
One of the greatest joys of the European climate is the distinct changes in season. From the flowers cropping up in spring, the buzz of warm summer days, the colors of autumn, and the cozy winter nights. And while these changes bring us joy, they can also strain our wallets as we strive to keep our wardrobes up to date.
Instead of buying new pieces every time the wind changes, why not rent? Try a trenchcoat in May, an overshirt in June, a vest in September, and a pufferjacket in January, and return them when the weather shifts!
Renting your clothes for the season gives you the flexibility and freedom to refresh your wardrobe without the extra cost or additional clutter.
Wrapping it up
Revamp your wardrobe with these three creative strategies and your schedule, wallet, and wardrobe will thank you. Save time, money, and space by building a streamlined capsule wardrobe elevated with rental pieces for special occasions and seasonal needs.
Building a wardrobe that works for you puts the joy back into getting dressed. Curate a collection of pieces that require minimal effort and bring maximum delight with fashion rental.
I'm ready to reinvent my wardrobe. What's included when I rent clothes?
All Dressr pieces are carefully washed and pressed, delivered in reusable packaging, and include a return shipping label so you can rent with peace of mind.
Try fashion rental in Antwerp
Looking for fashion rental in Belgium? Drop by our showroom in Mortsel, Antwerp every Wednesday between 1pm – 5pm and discover our extensive range of sustainable brands. Our team is happy to help you curate the wardrobe of your dreams.
More questions? Check out our FAQ's
---
Ready to reimagine your wardrobe? Discover all rental has to offer!