After what seems like an age of waiting, it's finally here; the sun is shining, terraces are buzzing, and holidays are within reach. Summer – the three months of the year when our calendars brim with social events. But before you rush to buy a new wardrobe for this season's occasions, we thought we'd remind you of a much more enjoyable alternative. Beach holiday? Summer date night? Rent a dress this summer and you'll never look back.
The seasonal wardrobe dilemma – why renting summer dresses wins
Summer wardrobes are funny things. One minute you need them and the next they're packed away for another 9 months. It's a short-lived, joyful affair that in our opinion could last a little longer. And while it can be tempting to buy a whole new set of clothes for those fleeting summer months, when you look at the number of wears you're getting per item, it doesn't quite add up.
Thankfully this seasonal wardrobe dilemma can be avoided with fashion rental. This year, rather than buying a whole new collection of summer clothes, try purchasing the basics and renting the rest. Enjoy the delight of wearing new and unique pieces, the practicality of saving space, and the gratification of making a sustainable choice when you rent a dress this summer.
---
Rent a dress for every occasion: 10 dresses for 10 summer moments
Now for some inspiration. It's worth saying these pieces can be worn on any occasion, but here are 10 of our favorites matched with special moments this summer.
10. Button-up sun dress for park picnics
This button-up dress by Renēe is the perfect park picnic dress. Made from upcycled shirts carefully crafted together, this piece is comfortable, sustainable, and unique.
The brand: Renēe is a Belgian brand born during lockdown when its founder Zoë stumbled across a creative dress idea while piecing together her grandfather's old shirts. Inspired, Zoë began Renēe and set out on a mission to create a fashion label with a zero-waste production process. Each of Renēe's pieces is lovingly upcycled from overstock garments, breathing new life into waste fabrics to create one-of-a-kind pieces.
Shop button-up sundress by renēe by Zoë
9. Pink floral dress for your summer holiday
The Pink Flower Dress by EVAMARIA encapsulates the essence of a perfect summer look. Crafted with love and attention to detail, this long, playful, sheer dress is both luxurious and lightweight; perfect for warm summer holidays.
The designer: EVAMARIA makes handmade, original pieces from exclusive and quirky materials. An artist and designer, EVAMARIA designs distinctive, radiant, colorful garments as a tribute to the diversity of femininity. She describes her collections as "just like women; exceptional and unique".
Shop pink flower dress by EVAMARIA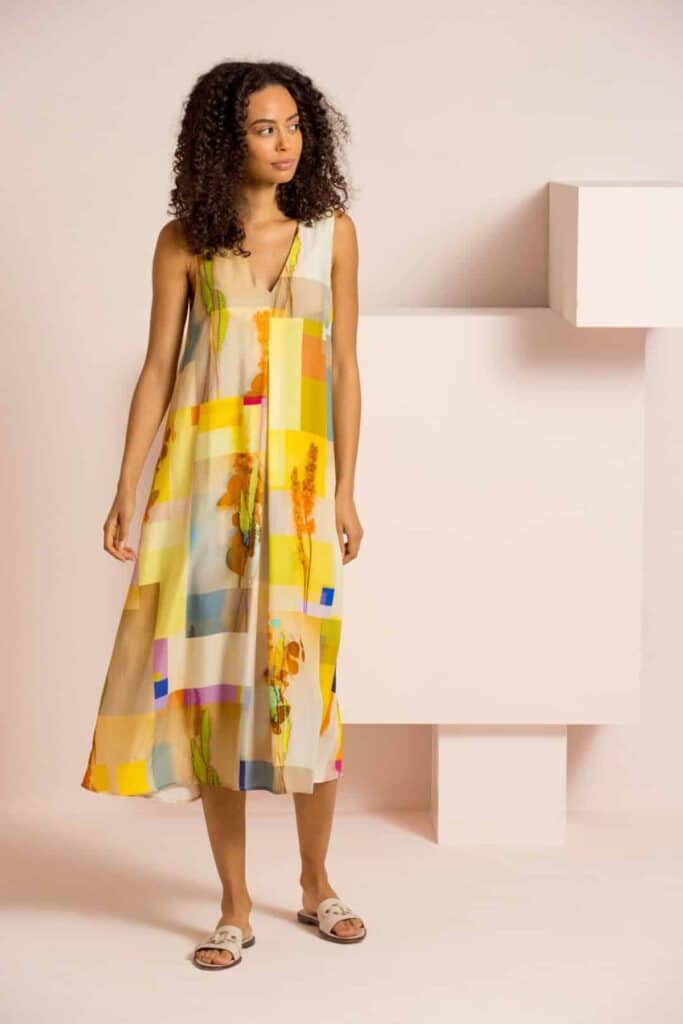 8. Sleeveless dress for effortless everyday wear
The Kinly dress by Gigue is a stunning multicolor sleeveless dress, perfect for effortless everyday wear. With its relaxed fit and V-neckline, this long dress radiates comfort and style. Whether you're running errands, meeting friends for lunch, or simply enjoying a leisurely day, this dress is a go-to choice for a chic and comfortable look.
The materials: Gigue is a family-owned Belgian brand dedicated to the use of rich fabrics, sophisticated details, and beautiful finishes. This piece is made from 100% EcoVero, a viscose made using sustainable wood sources, and has 50% lower emissions compared to generic viscose.
Shop sleeveless Kinly dress by Gigue
7. Orange maxi dress for alfresco dining
The Bonita dress by Mon Col Anvers is a showstopping orange maxi dress. While Mon Col Anvers collections are consciously designed for any occasion, we're envisioning this number as the perfect alfresco dining dress. Keep this elegant piece simple with a pair of sandals or dress it up with heels and accessories.
The style: Mon Col Anvers seeks to create sustainable garments with timeless styles. Balancing French flair and Scandinavian minimalism, Mon Col Anver's elegant pieces for every occasion offers a sustainable alternative to fast fashion.
Shop orange maxi bonita dress by Mon Col Anvers
6. Geometric shirt dress for smart casual events
With a striking geometric pattern and tailored collared look, this shirt dress combines playful lines with a sophisticated shape. Perfect as smart casual attire at the office or styled over trousers for a summer event. Pair with white sneakers and a statement color bag for that extra touch.
The brand: Terre Bleue, referencing planet Earth, is a Belgian brand with an eye for smart casual looks and a heart for sustainability. Each piece is designed to be stylish and elegant, with top-quality materials and precise fit. With a collection created every 12 months, Terre Bleue celebrates slow fashion and conscious consumerism.
Shop geometric Camille dress by Terre Bleue
5. Yellow ruffle dress for outdoor weddings
The PEONY dress by RE°invented by Anne is a captivating yellow ruffle dress, perfect for outdoor weddings and other special occasions. Inspired by the beauty of the Peony flower, this dress features a tiered ruffle at the waved hemline, representing the flower's unfolding of petals.
The designs: Re°invented by Anne is a brand that seeks to revolutionize fashion and its relationship with fabrics. Straying away from the disposable nature of the industry, Re°invented focuses on creating sustainable and timeless pieces. Each piece is made from leftover materials from the fashion industry or second-hand clothes. The brand's dedication to upcycled fabrics is slow and conscious fashion at its finest.
Shop Peony dress by RE°invented by Anne
4. Blue asymmetrical midi dress for garden parties
Bright and lively, this flowing asymmetrical dress by Wusuwaah's Diary is a fresh look this summer. Its vibrant colors and distinctive motive stripe are an elegant statement look perfect for outdoor garden parties and events.
The designer: Wusuwaah's Diary is a brand founded by African fashion designer, Constance Ama O'wusu-waah, who goes under the name Wusuwaah. Born in Ghana and raised in Belgium, Wusuwaah's garments are a mix of precision and creativity with a unique style, a fusion of art and beauty.
Shop Kusami dress by Wusuwaah's Diary
3. Summer Kaftan for Mediterranean getaways
The Palmira kaftan by K&J is what you'll want to be wearing at your next beachside retreat. Made from 100% cotton, this chic number will keep you feeling cool and looking glam all day long.
The vision: Kate & Jules' collections are designed to empower women with timeless and versatile designs. Each piece is carefully crafted with love and respect so they can be treasured for years to come. The brand also has a vision for sustainability, using natural and recycled materials to minimize waste and create with longevity in mind.
Shop Paloma summer kaftan by K&J
2. Beach dress for seaside strolls
This flowy A-line midi with flared sleeves is a breezy number for evenings by the sea. Its chic style and elegant collar make it easily dressed up with accessories, or it can be kept casual with a simple sandal.
The brand: Rozerin draws inspiration from cultures around the world. The Antwerp-based brand creates its collections to be inclusive for all women, with designs that encapsulate East and West, modern and traditional, elegance and everyday.
1. Satin halter for summer date nights
Indulge in the romantic allure of the Satin Maxi Dress by Marylène Madou. This stunning halter is the epitome of elegance for summer date nights.
The mission: Marylène Madou sets itself apart by manufacturing its own printed fabric and using eco-friendly ink in collaboration with digital printers within Europe. By reducing water pollution and minimizing environmental footprint, Marylène Madou embraces the future of sustainable fashion. Every piece is designed with integrity and impeccable attention to detail, drawing inspiration from eclectic aesthetics and a passion for historic textiles and unique objects.
Shop Satin Maxi Dess by Marylène Madou
---
Wrapping it up
Summer is here for just a matter of months and you deserve to look and feel your best. But that doesn't have to mean buying a whole new wardrobe. Try new designers and experiment with your look the next time you rent a dress!
Whether it's for a night out, a summer work event, or your next coastal getaway; you'll always have something to wear with Dressr's curated collection of conscious creators.
What's included when I rent a dress?
All Dressr pieces are carefully washed and pressed, delivered in reusable packaging, and include a return shipping label so you can rent with peace of mind.
Can I try things on?
Yes! Drop by our showroom in Mortsel, Antwerp every Wednesday between 1pm – 5pm. Our team is more than happy to help you curate the ultimate summer wardrobe.
More questions? Check out our FAQ's
---
Feeling inspired? Rent a dress for your ultimate summer look!